The Corporation for National and Community Service (CNCS) administers AmeriCorps at the federal level and works in partnership with states to develop service programs and create a community-based national service network. The United Way Association of South Carolina (UWASC) is the administrative agent for South Carolina's AmeriCorps programs.
Oftentimes described as the domestic Peace Corps, AmeriCorps programs help communities address locally-defined challenges by mobilizing America's greatest asset, its citizens. There are full-time AmeriCorps positions available across South Carolina that engage dedicated leaders from age 17 to 117+ who will commit to utilizing their skill, experience, and passion to address needs in the following focus area:
The United Way of Anderson County has been the proud host of an AmeriCorps program for well over a decade. This year we are launching new AmeriCorps focus areas: Camp Mariposa Mentors for At-Risk Youth & Education and Outreach Team for Substance Misuse / Mental Health / Suicidal Ideation for at Risk Youth. We are currently recruiting for the next service year (8/1/23-7/31/24). For more information please download the position descriptions below.
Camp Mariposa Mentors for At-Risk Youth
Education and Outreach Team
To learn more about AmeriCorps visit www.americorps.gov or email Alison@uwandsc.org.
Image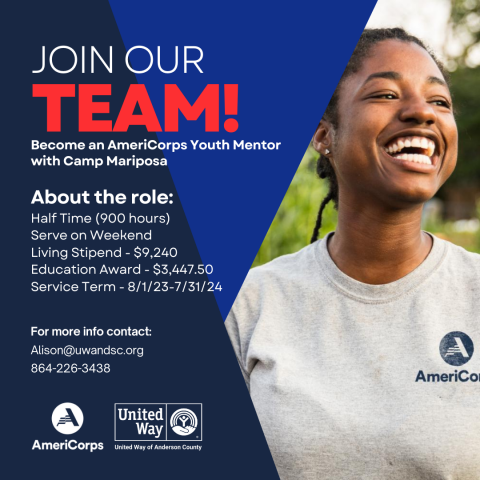 Image